My name is Sheffield Abella and I am a freelance illustrator and designer. I produce artwork and designs for various clients. I also taught drawing and painting at The Art Institute of Las Vegas, UNLV, and AI Pittsburgh on and off starting in 2004 up until the pandemic. I come from a military family which is what brought me here to Las Vegas.

What follows below is a mix of images from my freelance assignments and the classes that I have taught. best stuff is towards the bottom of the page.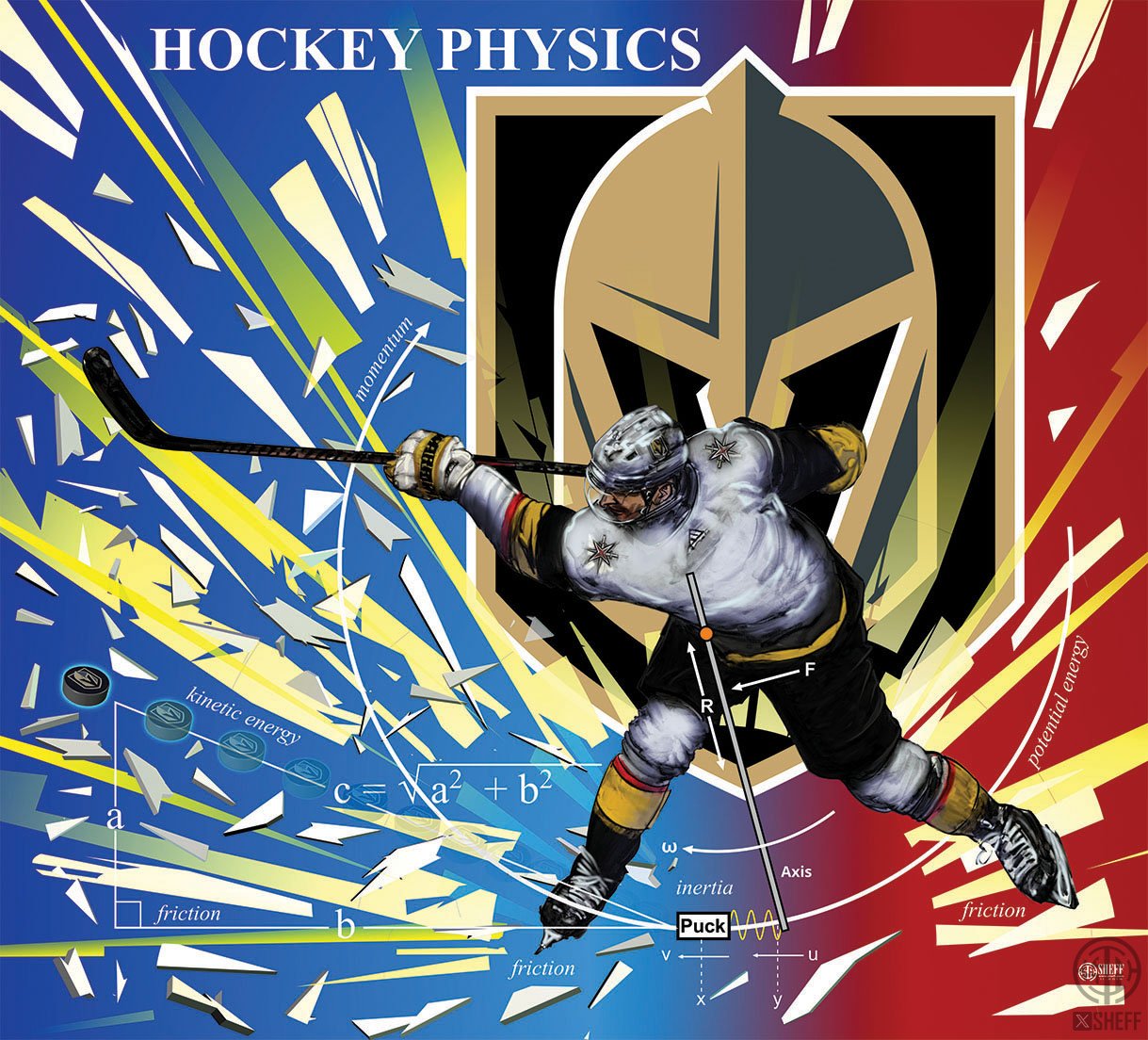 During the pandemic I completed a mural that was installed at Joseph Neal STEAM Academy. This was commissioned by Mayor Pro Tem Michele Fiore. The principal wanted a hockey player from the Las Vegas Golden Knights striking a puck and all the associated forces of physics that came into play.
[/vc_column_text]
[/vc_column]
I was also commissioned to revisit and update a design I had done years ago. Ramon Purcell, a professional photographer specializing in vintage aircraft, requested that I make some changes to an illustration I did years ago for his business, adding a camera to the girl riding the bomb.
This slideshow requires JavaScript.
This slideshow requires JavaScript.
I had returned to freelancing since my teaching position went away with the final shutdown of Art Institute of Las Vegas. Prior to that I was teaching remotely at Art Institute of Pittsburgh. I had been teaching drawing and painting.
Before that I had been working for a game company that was producing slot games on facebook. My job was to do illustrations of the main character for social media and for use with the games. I worked for that company for four years. My specialty is figurative work. I like drawing and painting people. I taught drawing and painting, on and off for almost 20 years, not only at Art Institute, but also at UNLV.
This slideshow requires JavaScript.
Before I moved to Las Vegas, I was living in Pasadena, where I went to school, at the Art Center, College of Design. After graduating, I wanted to go into movie poster comp sketch work, but that industry was already disappearing. Painted movie posters were being replaced by big head Photoshop digital images. Painted posters were too expensive and too hard to change. Sketch guys were only being hired to do the concept work to deliver pencil drawings and the finish would be executed by someone else.
This slideshow requires JavaScript.
I had been working at a design firm, producing logos and designs for restaurants and bars while I had been trying to break into movie posters. I had also been working freelance for small video game startups.
This slideshow requires JavaScript.
The difficult thing was that when I was in art school, there were no computers in our department. Computers were reserved for other majors. Then when I graduated, everyone expected you to know how to use a computer. I had to learn on the job. So I took home the manual for Photoshop and read through it about halfway. I was very lucky because when I worked in-house, there were a bunch of cool guys who would show me stuff on how work in Photoshop. I've been using it and teaching it for 25 years now. I still liked drawing and painting traditionally, but the industry had turned the corner. If you didn't know the software, you are going to have a hard time.
I also had some recurring medical difficulties and didn't have insurance. I ended up having to move back home with my parents here in Vegas and go back to school for a masters, in order to qualify for insurance under their plan since I was still young enough. While I worked towards my masters and recovered my health, I continued to freelance. Around this time the internet was still starting to become a thing. Most people still had dial-up and very, very few people had broadband. I started teaching myself web design because I needed to have a website to showcase my work and I didn't want to pay someone else to do it for me. I wanted to have full control over the design and functionality of my website. The internet service provider I was using noticed the traffic coming to my site and started referring clients to me for logo and design work as well as redesigning their website.
This slideshow requires JavaScript.
One of my clients, a video streaming service, wanted to bring me on full-time, so I ended up quitting school to go work for them. I worked for them for over year before one of my coworkers hired me to join him at a competing company. That lasted for almost three years.
After that I returned to freelancing. I had maintained relationships with my former coworkers and they would often commission assignments.
This slideshow requires JavaScript.
They would also commission design assignments from me even as they switched companies over the years.
I was still freelancing when I began to start teaching. My freelance dialed back as teaching took up more and more of my time. I also finished up my Masters degree in Animation at Academy of Art University.
[/vc_column_text]
[/vc_row]
What my career feels like to me is a pendulum swinging between freelance, teaching and in-house work. I enjoy teaching, but I dislike the politics. I like the security of in-house, but don't always like working on the same thing day in and day out. I like variety. I like the challenge of a new assignment.
So at this point, I'm going to focus on painting more in traditional mediums. I have worked in digital primarily for the convenience of dealing with clients and vendors. I still enjoy doing design and solving problems for clients, but I miss the feeling of traditional paint.
I'm going to put together some new work and focus on shifting the services I offer. I'm not going to stop doing design, I will still continue to service my existing clients and take on new assignments via word of mouth. I'm going to be more selective about the design jobs I take on and focus more drawing and painting.
Most of all, I'm looking to do more of what I enjoy. Life is too short to put anything on the back burner.